id+ Card Basics
The id+ card is Penn State's official identification card - carry it with you wherever you go!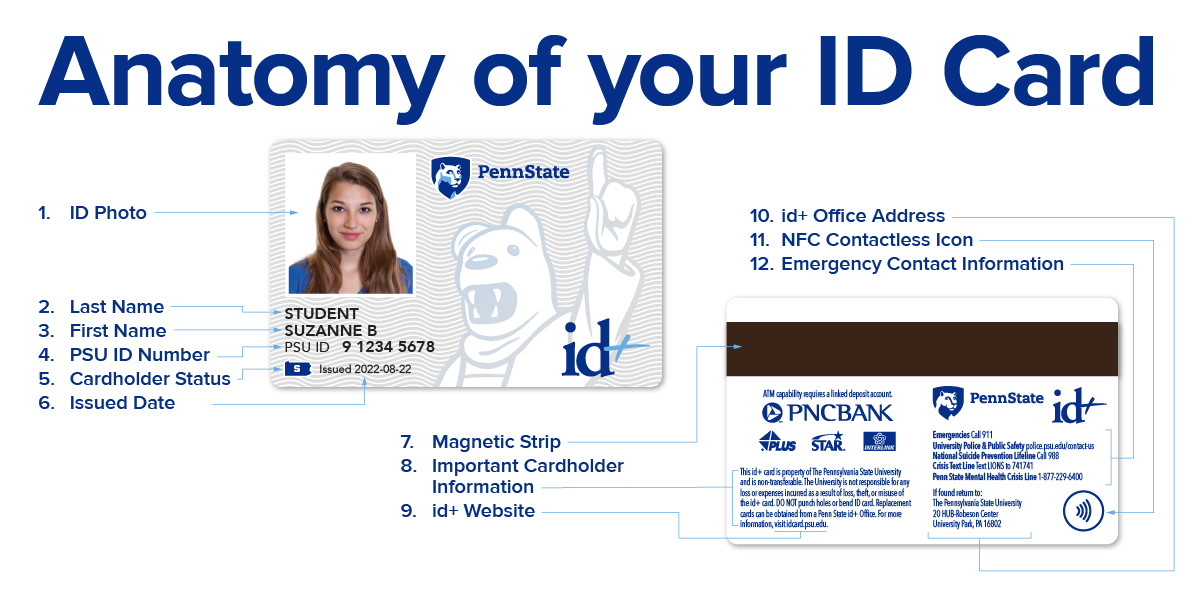 Card Care
id+ cards are expected to last four to five years. Keeping the card protected helps to reduce the risk of damage.
Normal Wear and Tear
The id+ Office will replace non-functioning id+ cards that exhibit normal wear and tear at no charge. Normal wear and tear includes damage that may be caused by swiping the id+ card through authorized equipment.
This may include the following:
Horizontal wear on the magnetic stripe
Clean horizontal break of the card (must have both pieces)
Improper Care
The id+ Office will charge a replacement fee for non-functioning id+ cards that were damaged by improper care.
This may include the following:
Vertical/horizontal gouges or scratches on magnetic stripe
Vertical wear on the magnetic stripe
Bent or curling cards
Vertical break of card or ragged vertical/horizontal break
Abnormal marks including teeth marks
Equipment damage (such as from a washer or dryer)
Note: The above examples are general guideline and are not all-inclusive.
Do not:
Mark or bend your card
Punch holes in your card
Scratch the magnetic stripe on your card
Use your card as an ice scraper
Allow your card to rub against the raised lettering of other cards
Tampering (labels/stickers, burning/branding, or punching holes) with id+ cards and/or making color reproductions is prohibited (See AD24). Cards that are in violation of this policy will be assessed the replacement fee regardless of the card's condition.
A replacement fee is charged for lost or stolen id+ cards.
Check out how LionCash simplifies the college experience